Current information can be found here.
The Frauen helfen Frauen association charity shop has been at Mittleren Beutau 12 since October 2011. The principle of the secondhand shop is simple: well-preserved women's and children's clothing can be handed in there. Our volunteer helpers sort the goods, hang them up and sell them.
Residents of the women's shelter and their children get donated clothing free of charge, and all other customers can buy the goods very cheaply. The proceeds in turn benefit the association and subsequently the children and women in the women's shelter.
We hope that you will continue to support our donation shop in the future.
You are welcome to bring clothes during opening times and see our range for yourself.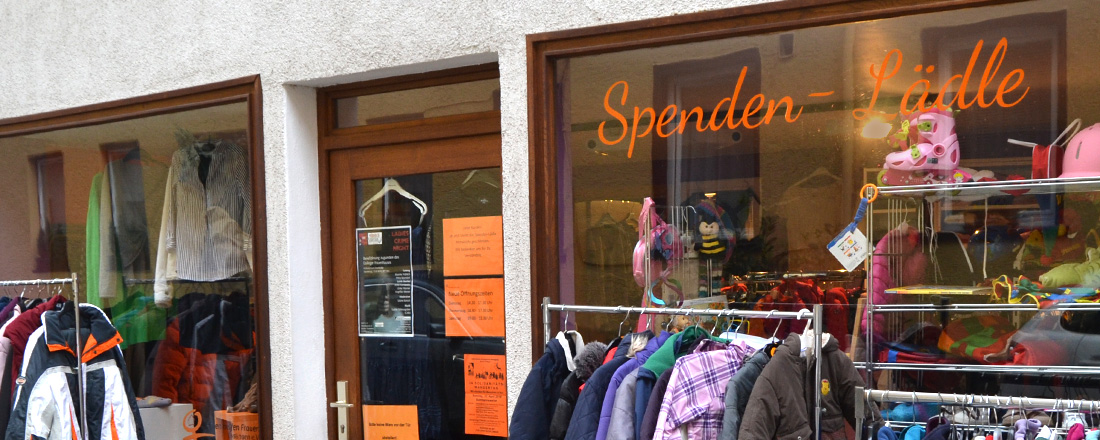 How everything started
For years, when the charity shop did not yet exist, there were repeated inquiries from the public as to whether used clothing, toys, household items, furniture, etc. could be donated to the women and children in the women's shelter.
We accepted the donations and were able to pass on some things straight away – to women and children who had fled to the women's shelter with nothing and to women who were moving from the women's shelter to a new home. Other donations, on the other hand, were collected in a specially rented basement room. Not only was there a lack of space there, it was also difficult to sift through the donations and pass them on.
To remedy this situation, we considered a possible solution. The idea of a shop was born.
We looked for and found many committed women who wanted to volunteer, and suitable rooms.
"Spenden-Lädle"
Mittlere Beutau 12
73728 Esslingen
Information from the advice centre by telephone at 0711 35 72 12
Opening times
Tuesday: 2:30 p.m. to 5:00 p.m.

Thursday:

2:30 p.m. to 5:00 p.m.

Saturday: 9:00 a.m. to 1:00 p.m.